Welcome to the Insightrix Recap of IIeX NA 2019!
To kick off the episode, we speak with a client success manager with our Insightrix Communities division, to get the scoop on all the goings-on at the conference, what the Insightrix Communities team got up to while they were there and more.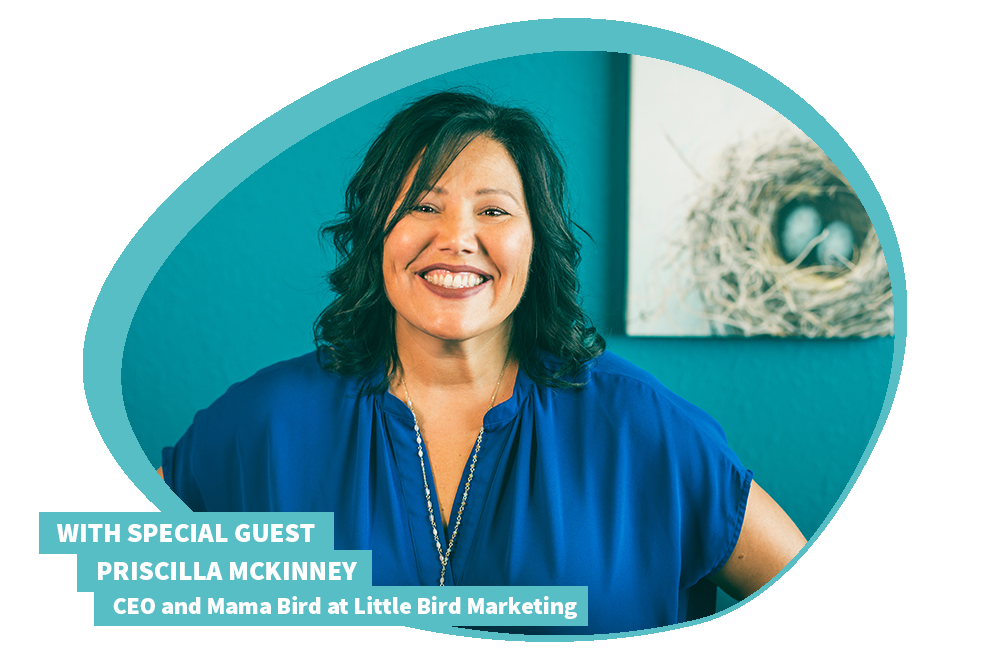 "The more you can tell a better story, the more you can tell a visual story. You know your clients love it."

– Priscilla McKinney, Priscilla McKinney, CEO and Mama Bird at Little Bird Marketing
Priscilla was also in attendance at IIeX NA 2019 this year doing a master class presentation, and we were lucky to get her on the podcast to talk all about it and get a recap, as well as to pick her brain on all kinds of stuff related to marketing businesses in challenging industries – like market research.

For this episode, we were joined again by Sharday Torgerson, our marketing guru here at Insightrix, as episode co-host who lent her experience and expertise to the conversation.

In our action-packed chat with Priscilla, we left nothing on the cutting room floor. Priscilla, Duncan and Sharday discuss persona building and strategies, long-winded buyers' journeys, how businesses marketing in challenging industries can break through the noise and get noticed, new innovations in marketing and market research (and established ones that still seem pretty innovative) and much, much more.
You can learn more about Little Bird Marketing on their website: www.littlebirdmarketing.com/
There, you can find all kinds of resources, including information on building client personas, social media engagement, email campaign tips and much more: www.littlebirdmarketing.com/resources/

Little Bird Marketing has partnered with Greenbook to host the North America Insights Marketing Day event in Denver in October. You can check out the event website for details: www.insights-marketing.org

If you'd like to learn more about the Insights Innovation Exchange conference, check out their website: iiex-na.insightinnovation.org/
Get more content from Insightrix Research
Insightrix Research releases new content regularly! Check out the Insightrix blog roll for informative articles about everything and anything market research-related.

You can follow Insightrix on social media on Facebook, Twitter and Instagram, and subscribe to our YouTube channel to make sure you never miss a video.

You can also access Stories of Market Research: The Insightrix Podcast on your favourite podcast player app, including Apple Podcasts, Stitcher and YouTube. Make sure to subscribe to be notified the moment a new episode is published!
Episode Transcript
[00:01] Duncan: Hello and welcome to episode 11 Stories of Market Research, the Insightrix podcast. My name is Duncan McGregor, the Marketing and Communications Coordinator at Insightrix Research, and your podcast host. In this episode I'm joined again by my co-host for the episode, our marketing Guru here at Insightrix, Sharday Torgerson. How's it going Sharday? Thanks for co-hosting the episode with me. [00:19] Sharday: Yeah. Not too bad. Any time I can chat about marketing, I'm usually the first in line to do so. But that's a typical millennial behaviour. [00:27] Duncan: Yeah, no, I totally get it though. It's a ton of fun. So in this episode, we're talking to Jaclyn Whitley, the Client Success Manager with our Insightrix community software division who, along with some other members in Insightrix team, was lucky to attend the Insights Innovation Exchange North America conference – say that five times fast.
It was in Austin last April. She had a chance to attend some of the awesome workshops and master classes, as well as to network and meet some other folks who are in our business. While she was there, she and the Insightrix Communities team had a chance to meet with the team from Little Bird Marketing from out of Joplin, Missouri down in the United States.
Their CEO and Mama Bird, Priscilla McKinney, was doing a master class at the conference too, and as luck would have it, we got a chance to get on the phone and chat with her, as well. Priscilla McKinney is the CEO of Little Bird Marketing, and was an awesome person to chat with about market research and marketing.
Her marketing company's got a lot of experience doing marketing for businesses and industries that a lot of people may consider challenging to market – like market research. Since this is a topic that's close to both of our hearts, Sharday and I couldn't resist the opportunity to pick her brain about some of the challenges she sees in marketing businesses that may pose bigger challenges.
[01:35] Sharday: Yeah, it was, honestly, it was really great to discuss marketing for our own company, but really to get a lot of validation out of our current efforts with Priscilla. We had a lot of good back and forths and a lot of "aha" moments I think that we tend to all share as marketers. But it was really nice and it was great to get obviously insight from someone who clearly has her name within this industry. [02:00] Duncan: Yeah, I couldn't agree more.I really got a lot out of talking with her on the podcast and I'm sure our listeners will too. So without further ado, here's Episode 11 of Stories of Market Research: The Insightrix Podcast. [Intro music] [02:35] Duncan: I'm here Jaclyn Whitley, our Client Success Manager for the Insightrix Communities division here at Insightrix Research. How's it going today? [02:41] Jaclyn: Good. Thank you. [02:42] Duncan: Yeah, well right on. You were just recently down in Austin, Texas for a little while. How was it [02:46] Jaclyn: Yes, it was really good. It was nice and warm. It was very nice. [02:50] Duncan: Have you ever been to Texas before? [02:51] Jaclyn: No, never. First time in Texas. [02:53] Duncan: Right on. Got to eat a lot of barbecue, I imagine, and get some sun? [02:56] Jaclyn: Yeah… Shrimp boil? [02:57] Duncan: Oh, right on! [02:58] Jaclyn: Yeah. No – crawfish! Where they dump all the crawfish on the table. What is that called? [03:03] Duncan: I think a crawfish boil. [03:04] Jaclyn: Crawfish boil, yeah. [03:05] Duncan: That sounds like a lot of fun. [03:06] Jaclyn: I tried a crawfish – not for me… [03:08] Duncan: No? Not for you? [03:08] Jaclyn: No, but I tried it. [03:10] Duncan: We won't tell anyone. So, the reason you were down there is you were at the 2019 Insights Innovation Exchange North America conference. It was in Austin this year. Can you tell us about that conference? What's it all about? [03:23] Jaclyn: Yeah, it was a really great conference, a big conference. It's a place where a market researchers, agency folks and marketing people, and then also some software companies… they all get together and they share learnings and insights and exchange ideas. [03:40] Duncan: That sounds like a lot of fun. What'd you guys get up to while you were down there with the Communities division? [03:45] Jaclyn: We attended a bunch of workshops and networking events and just meeting a lot of really good people in the market research industry. It was nice to hear some of the challenges that other folks are having is the similar challenges that we have. So we're not alone. So… [04:03] Duncan: Cool. So, I imagine you got to meet a lot of people and shake a lot of hands while you were there. [04:08] Jaclyn: Yes. Yeah. Lots of people. Yes. A lot of people. [04:10] Duncan: So well actually, the reason we were talking about this right now is that later in the episode we're going to have a chance to talk to Priscilla McKinney. She's the… what she calls the Mama Bird over at Little Bird Marketing. They're a marketing agency down in, Joplin, Missouri. And she was there at the Insight Innovation Exchange this year. Did you get a chance to meet her? I heard you guys met her team. [04:31] Jaclyn: Yeah, no, I didn't get to meet her personally. I know she was out an about. She had a speaking engagement, but I did meet her team and they were very busy at the conference. So, it was actually… ran into them a few times, not just once, but a few times over the course of the three days. So, it was good. [04:48] Duncan: Excellent. Excellent. Hey, just off the top of my head – anybody else from the Communities division make it down there with you? [04:53] Jaclyn: Yes. My colleague Evan Goodfellow – he also made the trek over to Austin, so he was down there, as well. [04:58] Duncan: Oh, he's actually met Priscilla before, hasn't he? [05:00] Jaclyn: Yes. Yeah, I believe he met her in – in Bangkok at the IIeX Conference last fall in 2018. [05:05] Duncan: Excellent. They do those things all over the world, hey? [05:08] Jaclyn: Yeah, they do. [05:09] Duncan: I was just checking and they've got the next one in Latin America. It's actually the IIeX Latin America. They're doing it in Medellín, Columbia this year in June 12 and 13, and then they're doing another one next year in Amsterdam. So this thing goes all over the world. So, pretty lucky you got a chance to check it out, right? [05:27] Jaclyn: Yeah, yeah, it was pretty neat. There was actually… I ran to a few people that have been to not just the North American conference but a few other IIeX conferences on other continents. So it was kind of neat. [05:39] Duncan: That's awesome. Well, anything new and exciting coming up from the Communities division lately. [05:44] Jaclyn: So, we are working on enhancing our qualitative features. So your discussions, right? So, we're working on enhancing our image uploads, video uploads – working on nested comments and just making sure the user experience is what it should be. [06:01] Duncan: That sounds really cool. That's awesome. And that we'll be rolling out in the next update? [06:05] Jaclyn: Yeah, there are some features coming, rolling out in 3.1. and then other features we'll be rolling out in few 3.2, so… [06:11] Duncan: Oh, that sounds awesome. I'm super jealous. You got to get a chance to run down to Austin. It's one of my favourite places. So… [06:18] Jaclyn: Yeah, I didn't exactly run down. It was a long day. There were three flights I had to take, but I made it there. [06:24] Duncan: That sounds awesome, actually. Although I'm not a big fan of airports, but well maybe next time you head down there, you'll drag me there with you. [06:32] Jaclyn: Yes. [06:33] Duncan: Right on. Well, thanks for joining us. I really appreciate you joining us Jaclyn. [07:14] Jaclyn: Thanks for having me! [Music/Commercial] [07:27] Duncan: The Insightrix Communities platform is your market research online panel solution. This all encompassing platform includes both qualitative and quantitative capabilities and updates in real time for quick results.
Whether you're engaging with stakeholders on an ongoing basis or whether you have quick ad hoc projects to implement, the Insightrix Communities online market research platform includes options and features to meet your unique research needs.
Insightrix Communities works continuously to develop and enhance robust features to meet market research demands. For more information about the Insightrix Communities online market research panel software, check out the website at www.insightrixcommunities.com.
[Music] [08:21] Duncan: All right, we've got Priscilla McKinney from Little Bird Marketing down from Joplin, Missouri on the phone. How's it going today, Priscilla? Thanks for joining us. [08:27] Priscilla: It's awesome. I'm so excited to be on your show. [08:30] Duncan: Yeah, really glad to have you. The reason we got you on today is that recently some members of our staff from our Communities software division was down at the IIeX North America Summit down in Austin. They said they had an amazing time and said that they ran into some of your staff down there. And I was like, well, that'd be a great opportunity to have a chat about your presentation down there. [8:51] Priscilla: Well, I won't tell you all the things we did down there. We'll just talk about the business stuff. [08:56] Duncan: That sounds awesome. Honestly, how was it down in Austin this time of year? It's gotta be nice. [09:03] Priscilla: Oh my gosh, it was so great. And I mean, the food in Austin, it's ridiculous. The music was amazing and you would think, oh, we were at a market research conference – we didn't get to see music. No, we did. And there was a live Karaoke night one night. It was just super great. So, we got the music. We got the food. We got really the whole scene. It was really great venue. [09:22] Duncan: I'm pretty jealous. I know the barbecue scene down there is pretty awesome. Pretty jealous! So, the masterclass you did at Austin called Effective Content Strategies for Being Heard Above the Noise – that was it, right? [09:34] Priscilla: Yeah. [09:35] Duncan: Now, you do a lot of work from market research companies – something a little close to my heart – and if I'm wondering if I could pick your brain about the masterclass. Could I get you to tell us a little bit about it? [09:43] Priscilla: Sure, I'd love to. It's really the platform from which I speak, which is, personas. If you don't know who your audience is, if you haven't crafted a very well-thought-through persona, then you're just writing. And if you're writing to just anybody, then my personal opinion is you're writing to nobody.
And so, a lot of people get very frustrated… they're writing. They're doing all these blogs. They're doing social posts. They feel like they're doing what they're supposed to be doing and nothing's working. And I come at that and try and help the market research firms and obviously other industries.
But to say, you know why you're not being heard above the noise is because you're not any different. And they like to think that they're different and they like to talk about how different they are. And I talk about this in a very funny way in my presentation about how everybody, everybody who comes to me is convinced that they're the special little snowflake. This is the way we do ethnographic research, and this is how we pull sample in, and this is how we do shop-alongs.
And they'll go on about, well, we're qualitative and we're quantitative – and I don't care what they're putting in. They think that they – just talking and talking and talking about themselves. And my point to them is that, you know what? People don't care if it's not relevant to them. And so, while they may be a very special, little intricate snowflake, if you really can understand the buyer's perspective, they open the door and they look out and it's a blizzard.
[11:09] Sharday: To that point Priscilla, I think being able to segment a lot
of these audiences, as well, is beneficial to market research or
marketing market research because even in my experience, and to your point, it's a lot of people will come to you with the research problem. But at the end of the day, I think everyone has a business problem that research can solve. So, a lot of the times it's being able to really dive down into their segment through personification to really be able to assist and assess their needs. So… [11:40] Priscilla: You're so right. And just for example, let's just take one example of that. So if someone says, well, market research and then we're the best at really intense ethnography. Okay, well, so who cares? What the client is thinking is, I don't understand how clients and consumers are using my product in the real world. If you can solve that and tell me that, and along the way, what you do to solve that is do an ethnography – great. I really don't even freaking care.
But then we write all of our content about ethnography is or whatever, and obviously I'm beating a dead horse with this example, but they need to really think about it from the client's perspective. What are the emerging and what are the persistent problems that your most ideal client has – and write content around that.
[12:30] Sharday: Yeah, I think there's a really interesting nugget of information in there. Even working with clients that are willing to be maybe a little bit more innovative in some of the projects that they're doing. So, a lot of the times, we will work with clients even to help them create personifications, obviously through the use of market research. But we are noticing more and more, even on the sales side of market research, that personification has started and segmentation is starting to slowly become even a part of our sales opportunities.
For example, even a couple of days ago, me and my team had helped with a proposal for a large pharmaceutical organization, and a big concern of theirs was really being able to try to nail down some of these personas that they themselves can be creating content strategies. And when you're working in an environment around fundraising, I think that there's an opportunity there to even sell them on how market research can position this opportunity with them through personification.
So, we're already seeing this again as both a tactic for market research to market ourselves, but we're also seeing our clients, need this as well in their research.
[13:46] Priscilla: Right. You know what? I mean you hit the nail on the head. It doesn't matter if it's fundraising or if it's a consumer goods – people either give for their own reasons or they buy for their own reasons. That really doesn't matter. So, talking directly to that end user in a way that makes sense to them and engages them, that's really the only thing we have going for us. [14:11] Sharday: Absolutely. Yeah, and I think we can both agree that buyer journeys itself – they can be pretty long-winded in B2B, especially things like market research, and it can be quite challenging to market. So, I think a question for you Priscilla, is that what are some kind of methods you and Little Bird Marketing use to maybe get around this? [14:33] Priscilla: Yeah, that's a great question. Well, we've really honed our skills on personas and I have to say it's probably our sharpest tool in the box. But I have a couple of questions that I like to ask, you know, when we're creating buyer personas. And I've got to say, I am so in my element when I'm in the client's boardroom and we've got the stakeholders around and we're talking, and it just the conversations get so juicy it's just awesome, you know? And I just love it. And I don't take any… I mean, either there has to be a recorder going or someone else needs to be taking notes because I'm, like, in it. So, I think there's some secret sauce that happens there, but I'll share a couple of questions.
One set of a twin of questions that I'd like to ask is what keeps your most ideal client up on a Sunday night? And conversely, what gets them going on a Monday morning? Because those are very deep motivators. And so, we moved beyond what's their age, what's their gender, what is their role at work. Yeah, it is important to understand what level of seniority do they have. But like, for example, we can dig in a little bit deeper and I'm going to go a little listicle on this, but I think this will really resonate.
A lot of people say, oh, what's the ideal role? So, let's say I need an insights brand manager to buy from me. But there's a new phenomenon in certain work cultures, and sometimes even more in deeply siloed environments, where the person who makes the decision may not be the ideal client persona for you to create. And here's why, I'm sitting here as a CEO at a desk and then let's just say, for example, I want to find someone who can help us, talk with clients in a geofencing target on text messages, right?
So, let me assure you that I don't go to Google and I don't go home and I don't go calling a bunch of people. I say to somebody on my team, I go to my executive director and I say, "Hey, you know what I need, I need blah, blah, blah, blah, blah." Lets give me three options. And so this person in my company is what I would refer to and what one of my good friends, Tim Hughes, who wrote a fantastic book about social selling. He refers to a change makers.
And I really believe that sometimes in buyer personas we get really fixated on who is the person who's making that end decision, but it's not always that person that we need to get fixated on. Sometimes, it's the person who is gathering the information. We need to make them an evangelist for our company. We need to make them a mouthpiece. We need to load their lips with, understanding like, really getting excited about how our product or service is going to relieve these problems and make them look good in front of this box they're going to go present it to.
So, it's the very, very deep and so it's not just on the surface like, well who are the personas and let's ask the questions. It's really understanding the construct and the soup that we're swimming in when we're making buying decisions in business.
[17:39] Sharday: Yeah, no, absolutely. It's a matter of breaking through the noise and allowing your brand to get noticed even within the context of selling a product. Now, you have an opportunity to empower your client and that decision maker, or not even a decision make, the one who is taking this to the decision maker. To your point, is going to be empowered to sell your products. So not only are you creating an advocate at the end of the day, but you're also allowing them to be able to feel confident that your research is going to help them get further. [18:11] Duncan: Sort of marketing people who are buy-in getters rather than decision makers, right? [18:16] Priscilla: Exactly. I mean, have you guys found this? What have you found in talking with people about persona work? [18:21] Sharday: Oh, goodness. Again, we are noticing that this is becoming a more common, I would hate to say buzzword, but personification is sort of a bit of a buzz topic these days. And it's great for us because we really are both being on the market research, or rather than the market research industry, but also being marketers, we see the benefits full circle. And when we get access to statistical information, that also helps us kind of be able to understand who these segments are – or having some insight as to what these industries are like or how we can fit better in the geographic locations, I feel is quite invaluable. So to that point, we're seeing the need.
In fact right, now Duncan and I are actually working on a couple of audience analysis pieces so that we can be positioning some of our products a little bit better. While we were noticing that this is something that we need to do every year, we're starting to actually recognize that this is becoming a bi-annual and sometimes even a quarterly requirement, so that we are keeping on the demands of our personas.
[19:31] Priscilla: That's so true. Yeah. What did you find when you came… were there were like red flags that came up? What made you think, "Oh my gosh, do we need to go back and change our persona or re-understand who our actual buyer is?" We hit that and we realized that we were missing one in our own company. And we're like, oh my gosh, it's not ideal. It would, talking with the CEO for us might be a good conversation starter, but we have identified that is the owner, we do not want them. We do not want them making the decision. We don't want them in that room.
They actually cause a lot of problems for us. Obviously not who they are. But, you know, the way they go about making decisions… we need what we've identified, one of our personas is this girl called C-Suite Stacy.
Yeah, she's at the C-suite. She got a table, you know seat at the table. But she's heavily invested, but she does not own the company. It gives through that little bit of freedom of… like it's not her baby. I feel like with the CEOs, sometimes I'm ripping the baby out of their arms and they're just like, "No". And they're not… I wouldn't say free with their money.
Certainly, it's their money, but you know what I mean. They can't sometimes be objective enough with the marketing spend to let us do the real work. And so identified that there was someone else. So did you guys find that? Was there a red flag that needs you realize?
[20:52] Sharday: Yeah, I think what makes us not to be the unique snowflakes here, but actually I think sometimes what makes us unique, in Saskatchewan specifically, and maybe even Canada, is we tend to ride a line as a market research firm between both research and software. So, we have a full research and development team at Insightrix that actually developed proprietary software that actually assists with our needs. So, things like SMS surveys, SMS alerts, online voting… But to your point, one of them is actually our online communities, which is the reason why you met a couple of folks at the conference because they were there sharing their – one of our new tools.
But what we ended up finding out when we were, created pre-implementation plans for online communities is that we were building a product for people that we assumed were making the decisions. And when we actually pulled back the curtain, started to really look at who was actually downloading the eBooks, who is actually contacting us to ask for pricing, who is actually doing the demos…
Once we really started to actually position and target – not necessarily the folks that are doing it, but understanding their needs in that regard – we actually started to recognize that a majority purchaser for online communities were actually other market researchers.
[22:15] Priscilla: Oh my God. It's so beautiful. That's such an amazing gut-check. [22:20] Sharday: It was light bulb that just hit us and it was quite a special moment because it allowed us to completely re-position our messaging to essentially say, you know what, we the market researchers are helping you build something for you, the market researchers. And I think it was a really great opportunity for us to say, hey listen, we need to be able to put this product in front of the people who are actually coming to us and asking for it. [22:46] Priscilla: Oh my God. Okay. So let me add a little bit of fuel to that fire. [22:49] Duncan: Please do. [22:51] Priscilla: So I love these. I've got a couple of numbers to throw at you, but when you talk about, it was different people coming to you. Well of course, with as soon as we talk about how do people find people or how… of course everybody is just looking down. We're on a podcast, so it's hard for me to gesture exactly. But you know what I'm doing. I'm kind of looking down at my phone and I'm twiddling my thumbs and then I'm texting somewhere, right? I'm Googling something because the moment I need something…
At this point 86% of buyers now conduct non-branded search queries for what they need. Non-branded. So they're not looking for Insightrix. They're just looking like I need blah blah blah. You know, and whether it's an orange spatula or it's a market research software platform, this is what we as humans are doing right now.
But this is what is really telltale to me. That's 86%. But 95% of buyers today consider content as trustworthy when they are evaluating a company. Obviously, there's some platforms that are more or less trustworthy. But, here's my last piece I'd say to that, is that now the average buyer consumes almost 12 pieces of content before they make a purchase decision. So, when you talk about, you realize it was a different buyer in like, well first of all, you know they are going online. So, even if you were broadcasting a message, they're conducting their search elsewhere. But then if you are one of the pieces of content they come into contact with, 95% of them are going to believe you, whatever it is you to say.
And if 95% of them believe you and they continue to keep reading – out of the 12 that it takes them to make a decision – the question is how many of those pieces are yours? How many pieces of those pieces of content that they read were relevant to who they are? And that is so key about then you shifting gears, and realigning your marketing and your marketing message around, and for the benefit of, that newly identified ideal client buyer. Because if they find it relevant, they will keep reading yours. And I would like for all 12 of the pieces of content people read about marketing to be mine and then there is no contest.
[25:03] Duncan: You become the brand. You're now Kleenex, right? [25:04] Sharday: And I think to add to that, Priscilla because I totally agree. And I think, one of the situations we often find ourselves in, being both from Canada and then perhaps a from a smaller urban area within the nation, that a lot of the times we tend to assume that our geographic location may help or hinder. But I think what we're recognizing, and through the work of buyer journeys in the works through personification, is that we can think a lot bigger and we can use these types of tools and these methodologies to bring us out of Saskatchewan and show the breadth of the research that we do.
Because we do work across the world and we have many clients from as far as Singapore to Australia. And we tend to sometimes put ourselves in a little bit of the assumption that we are just from Saskatchewan. But I think through the power of personifying some of our buyer journeys, we've recognized that.
And again, to your point, as long as we're getting the right information in front of the right people, they tend to really consider you a credible brand. At the end of the day – and a lot of the times, they'll end up contacting you as a result.
[26:16] Priscilla: Yeah. Oh my gosh, it's very, very powerful. [26:18] Sharday: It is powerful. [26:20] Priscilla: So when you were at IIeX in Austin this year, because obviously it's all about innovation, did you feel like people were getting that message, the conversations you were having? [26:30] Duncan: You know, I talked to Jacqueline Whitely; she was actually our rep who was down there – she was there with Evan Goodfellow, who's also another person from our Communities division. While they were down there, they said they were getting a lot of that actually. [26:44] Sharday: Yeah, I think on the flip side, though, we also recognize that a lot of the things we were doing and have been doing for say eight years like online surveys, we found out it's still very quite innovative in that part of the country. And it's not to say that people aren't doing online surveys, but we have built a culture around our brand that online surveys are a big component of our research. And we've been doing it for many years, so we almost don't even consider it an innovative technology or a methodology anymore. But what's really neat is where we had the opportunity to share some of our experiences with online communities and online surveys and notice that folks thought we were quite innovative as a response to that.
So, a lot of the times we're assuming, okay, we're kind of in the middle of Canada and it's hard to reach out. But what we're seeing when we are reaching out, how innovative we can be. But when you actually go to these types of conferences, the amount of ideas you can get from others and the collective information you can take away from that – I mean, we were so fired up when Jacqueline got home and got to share all of these takeaways from such an amazing conference.
[27:58] Priscilla: Well, I truly believe that this is not the era of the inventor. But this is the era of the innovator. And so while you're saying, an online survey, okay, you didn't invent it – but are you using it in a way that is meaningful to the modern consumer? And from that, are we writing these questions and are we able to really have solid methodology and are we able to pull these amazing insights from it. And, are we able to really present back to the stakeholders some kind of a learning journey. What did they learn from paying for this survey? [28:44] Sharday: Absolutely. [28:45] Priscilla: Yeah, were there great insights? Sure. Can we make the visual? Sure. Going on and on. And obviously I'm a marketer, but I speak to everybody in MR, so I know what they're getting after. But at the end of the day, the client that you're talking about, like you want to talk to somebody who would be buying your software, your platform, they don't really care to know what you're saying… That it's a survey and this is what we're doing. What they want to know is, am I going to learn something through this process about my buyer? Is this going to help my ideation flow? Is this going to help our R&D department? Is this going to help us change or fine tune our marketing message? Is this in the end… Is this going to increase sales? That's what they care about. [29:31] Sharday: Yeah. There still already concerned about the outcome of the project and that's an obvious with market research. Because we're so used to being a part, especially marketing market research, I'm so used to being a part of the concept portion of working on these projects. But we often, because of that, we sometimes forget that a lot of these folks are really just coming to us because we help them make better decisions at the end of the day. The information we give them is only just to make better business decisions and that's what they're after.
So, I think on top of that, Priscilla, one thing that we recognize, it's a big change in the game if you will, is syndication. So, working on syndicated research where you know we can run independent studies on topics that matter to people. For instance, a social media usage in a part a of Canada that might not necessarily get a lot of coverage, is an opportunity for our business to kind of position us as thought leaders. And as the folks that you go to for this information. And we've noticed that syndicated research is an opportunity for people to purchase market research without having to jump through the loops of custom.
So, they can just jump on our website and we know that they need this answer, they recognize that this is the information that they can purchase, they throw in their credit card and they have a report at the end of it. Not only on our side of things that did we not necessarily have to assist them in any way so that… and we are always there to assist. But if people just need to go out there and really get that answer, that is what they're going to do. And that's how a lot of folks and buyers and consumers, that's how they're empowered today.
[31:12] Priscilla: Right. Yeah. Very empowered. And they're also empowered to turn you off. [31:18] Sharday: Absolutely. [31:18] Duncan: One hundred percent. [31:18] Priscilla: The can follow you on a channel and they can unfollow you. [31:25] Duncan: That's something definitely worth managing too, for sure. Now, since we've got you on the phone, I'm not going to waste this opportunity. I want to get your take, personally as somebody who markets market research firms a lot, as well as other challenging industries. What's your take on breaking through other than personification, that you can actually use market research in your own marketing? [31:45] Priscilla: Oh yeah, that really great. Well, here's one quick way that anybody can use market research and fund it is as we all know, spend a little money doing a Facebook ad. Spend a little money doing a Google ad. And when I mean little, I mean little like 50 bucks. Then a $100.You can find out what people are interested – go on Linkedin. If you're a B2B, go on Linkedin. So, I think what you were asking me is like, what are some tips, inside market research specifically? But I will say this as my overall observation, I find it incredibly ironic and a little bit sad that market research companies don't do market research for themselves, and don't typically validate their own marketing messages through market research. [32:36] Duncan: It's weird, right? [32:38] Sharday: It's such a meta concept. It's not to say we experience it, but I'd be hard pressed to say that that's not something we've talked about in the recent past. [32:50] Duncan: Yeah. Well, there's always needed to know more about how your marketing is doing, how your initiatives are going. [32:54] Sharday: And I'm sure we all do a customer satisfaction, Duncan, right? Like we're all aware of the little market research, right? [33:00] Duncan: I was just about to say that. [33:02] Sharday: Right? But yeah, you're right Priscilla. I think there's something to, recognizing that we have a lot of these tools, as well, and how we use them is only going to empower our marketing even further. [33:13] Priscilla: Right, and some of the things, I think, that market researchers leave behind is it with what they have not been very astute about is, first of all, podcasts, audio. And here you were on… And we use this tool. We leverage it to get right intimate – right into people's ear buds. That's very close at hand. They know our voices. They're willing to hear us out. It's like I didn't have to fly to a hotel room in a conference somewhere, and get to speak to 100 people. It's like, we'll have 2000 people, tune into our podcast. And that's just a quick way to get at… so people don't appreciate what it takes to bring your content above the noise.
Well, they completely forget about audio. I think they also forget about video, and video – it's insane. It's insane how easy it is. And we've got these $1,000 phones we walk around with, and then everybody just kind of doesn't want to get in front of it. And it doesn't… people aren't like demanding like Scorsese quality video when it comes to understanding something like surveys, or like a platform or what's the right mix. You know, I've worked with a client out of Burbank, Think Now, and they do, they specialize in sample for Hispanic and African American and Asian American audiences. This is talking really specifically about the changing face of the American consumer and understanding your sample. That's a very amazing, amazing conversation that you can have.
But there's no reason why we can't have that so quickly on video.
[34:46] Duncan: Webinars, that kind of thing, too… [34:48] Priscilla: Audio… oh my gosh. It's just crazy. This idea that content needs to be in video, it also just needs to be visual. You have know this from presenting your findings, the more you can tell a better story, the more you can tell a visual story. You know your clients love it. And so, all these amplification tools that are out there from, podcasts to writing your content around a particular topic you want to own – there's just a lot of little tips and tricks there that I think a lot of them, MR firms, they just walk away from. [35:19] Duncan: What's neat about those amplification tools is that they've all got their own little back ends to that you can break into, start digging around, find out who's downloading your material, find out who's looking at your content, who's engaging with it, and start using that to inform your own buyer journey. [35:33] Priscilla: Right. Oh my gosh, that's a really, really great point. Because again, we talking about like when are the red flags? What are the signs that maybe you're out of touch with your ideal clients. If you took a guess about who's downloading your things that your guides off, your landing page, and you go look and you look at those emails and they're not even remotely the kinds of companies do the kinds of positions or titles that you thought, you wrote them for, then you probably have a persona problem. [36:06] Duncan: One of the great thing about getting across all those different amplification tools like Facebook, YouTube, whatnot – is that certain people who might engage with your landing pages might not be engaging with your podcast. So, it helps you identify who's using what, who's looking at what and where maybe that content should be pointed. [36:20] Priscilla: Right. And when you're – I'll add something to that. I haven't asked this question, but let me just add, another thing I see that just really drives me crazy is that people come at the marketing and also with, oh I have my favorite spots. Oh, I love Linkedin, or, oh, I love Twitter, I don't care, Insta whatever. And then so then they think that's where everything should be. Oh, that's where it's all happening. I get that you love Insta – but it's not going to work for with your product, you know? And so sometimes we get these little pet channels that we like. And I like to, open up sometimes as conversation when I'm speaking and just add, do a quick poll. I'm like you guys are all market researchers. He like surveys. Let's do one, let's get the numbers.
And I'm like, how many of you guys are died-in-the-wool Uber fans? Raise of hands. How many of you are Lyft fans? And when I was in London, I even was like, hey, how many people Black Cab all the way? And people have their preferred vehicles.
And I'm like, okay, great. That those are the numbers. Now raise your hand if the last time you got in one of those vehicles, you told the driver, take me anywhere you want to go. Crickets, right? Because that's just crazy. But what happens is that people go, "Oh YouTube is the place." YouTube loves YouTube. YouTube wants you to do certain things and it's going to push you to do certain things. If that's not in alignment with your strategy and not important to your personas, waste of time. I mean, I can just go down the list and that is just true.
So, we've got to be careful about these little pet loves we have for different channels and make sure that we're really seeing things from the perspective of our ideal client buyer.
[37:55] Sharday: So, I think something that hit me that Duncan had said, is within market research or marketing market research, we recognize that validating or an informing those initiatives are quite important. And that's why doing market research for market research will help deliver on that. Because something that I even experience as a marketer for this business is, again, we do find that we end up working on some assumptions. And how do we kind of break through that barrier? Priscilla, in your experience, do you have any suggestions to our audience if they were to ever come across some of that? [39:16] Priscilla: Yeah, the assumption thing is interesting, but I do find a couple of quick tips. I've mentioned, please don't let the CEO make these decisions. I kind of mean that a little bit more jokingly, like in terms of a founder because it's hard. And so I think it's about assembling stakeholders. I kind of talked about it like people say getting your ducks in a row. Well, let's align the ducks. Who was supposed to be in this room? And let's make sure that we're all allies. Let's make sure that we understand what we're coming into this meeting for. And let's be able to challenge each other. Because as soon as we start saying, "Okay, hey, what is this your ideal buyer?" If I have the right stakeholders in the room, they'll start challenging each other and my work gets really easy.
And I'll just say things like, "Well how so?" Or, "say more", or "when does that not the case?" Or why have that, and you know… Of course, I don't know the answer, but I am very good at effective strategy questions. Let me get to the answer. They really are in their brain. But getting the right people in the room to discuss these things is really key. And I know that probably sounds super dumb, but you would be surprised how many people have started into some kind of a strategic journey, and they did not get the right people in the room to begin with.
[40:41] Sharday: Yeah. If you think you've been back 10 years ago, marketing wasn't in the board room, and today if marketing isn't at the table with you helping make these decisions or at least giving their insights or their expertise as a business, especially for a market research firm, you might be missing out on some really big insights because again, sometimes we're that little key to unlock the Pandora's box to maybe answering a larger question at hand. So, having marketing at the table, I think more so than ever, is quite crucial to assist with making those decisions. [41:17] Priscilla: Yeah. And I think let's just add on top of that a quick thing – also make sure that somebody who is responsible for sales is in that meeting too. [42:13] Duncan: Sure, because its really sometimes… [41:25] Priscilla: Because that cuts the bullshit like nothing else. [41:28] Sharday: Oh preach. Yeah, absolutely. [41:29] Duncan: Sometimes you get to the point where you can't see the forest for the trees. Having the somebody where the rubber meets the road kind of deal kind of helps. [41:37] Priscilla: Yeah, for sure they're like… [41:39] Sharday: Yeah, we recognize that in our own business Duncan. Recently even, how revenue operations as a position is quite crucial. And we actually hired someone within the business. She moved into a Chief Revenue Officer role, and she now has a permanent spot at the C-suite table for that reason. We definitely recognize again where the rubber meets the road and what we need to contribute to that. And sales is now sitting in front and centre right along with this. [42:09] Priscilla: Let me give you a real-world example of that. I was sitting and talking with all the marketing people and with the people, you know, who are the market researchers – in the field workers – and we're all talking about, yeah, this is the person who buys from us, this the person. And then sales people end up saying, yeah, you know why – I know these people. They want the product, I get it. And you wrote all the content to make them want it. Sadly the procurement officer won't do it.
And so at what point do we need to be writing to… At what point does the procurement officer become one of our personas. And we know how to incorporate them into the content that we're writing for them to see what the wind for them is. How can we…?
[42:52] Sharday: It's actually one of our personas. [42:56] Priscilla: It funny but people forget about them all the time. And we want to work with Kellogg's? Guess what? You've got to get on their procurement list. [43:04] Sharday: Absolutely. [43:07] Duncan: So you're saying, don't sell to the person who you want to, sell to the person who will buy your product if that makes sense. It might not be the person who needs it or, but you need to talk to the person who has a need to buy it – if that makes sense. [43:19] Sharday: That's why proposals are a number one sales package for us actually. And procurement writing is right up there with us. So, the CRO takes a strong initiative in this writing and we have a full staff proposal writer as well for these initiatives. But we really do recognize that, to your point, often these are the folks that we tend to, maybe forget about, when we're actually thinking about marketing market research. But arguably they're are number one sales opportunity for market research. [43:54] Duncan: Totally. [43:55] Priscilla: Yeah. I guess my last thing I'd say about that is that, you guys have talked about it, you saw red flags that you needed to change, re-craft your personas. I've seen those red flags. So, I think we could say what you've crafted personas in the past, where you aren't sure even where to start – you need to have a clear idea about who you're trying to reach. And I think we can all agree to that those need to be front and centre. They need to be common knowledge. That needs to be common vernacular. Meaning, if you've crafted personas, we know we print them up and beautiful sheets and put them out on presentations, but like I don't even sit down and write a blog without pulling that persona out and being like now so what was I doing with this again? Who was I writing to? The question is not just have you crafted them or have you updated them – it's are you using them. [44:39] Duncan: Yeah. They can't really… you can say they inform your process, but if they stay in her desk drawer they're not really doing much, right? So, if you're not using them as a way to actually target your communications, messages, what have you – they're pretty much useless. [44:52] Sharday: Yeah. Our framework is everything to us as a department. And if I can add to that, we've noticed that it's even more important to be addressing this on the daily as if it's a working document that we live and die by. But at the same time we also notice how beneficial it is to be checking in every, month or quarter on this framework so that we are constantly addressing the needs of these personas, or making sure they're correct as we go.
Because we both know that in marketing if things stand still, they're just standing still. So you always got to progress and you always got to move forward. So a framework is a definite need.
[45:33] Duncan: Yeah, well you know what? We've taken a lot of your time Priscilla. I really want to thank you for coming on! [45:39] Sharday: I think we can talk for hours about marketing. [45:41] Duncan: I'll just sit here and mine your mind for a little bit, right? This is great! [45:45] Priscilla: You want to hang out tomorrow? That sounds great. [45:47] Duncan: That sounds awesome. We'll make it a lunchtime thing and we just call in! I wanted to let everybody know you've got an Insights Marketing Day in Denver coming up in October. Could you tell everybody about that? [45:58] Priscilla: Oh, this is so exciting! We partnered with Greenbook and we're putting on Insights Marketing Day. I've spoken at them many times, but we've also partnered with Keen as Mustard across the pond. They're a great counterpart, another colleague of mine, and I always keep all of us who do work together – it's the more the merrier. And there's things that we all specialize in. I love being able to know my colleagues and people who are doing excellent work in marketing and be able to refer to them and find the right partner.
But they're wonderful. And we're going to be hosting all of the US-based Insights Marketing Day and we're always going to be hosting them in October, and then they're going to be hosting them in Europe, in March. And so this year it's going to be Denver in October. And so it's October tenth. It's coming. You can check it all out at insights-marketing.org. It is going to be power packed. We're waiting on one last speaker here, but it's either gonna be eight or nine speakers. Just a really… we've asked them to give some of the best advice they have about marketing within the MR World. We have people like Kristin Luck, the founder of WIRe. I'm sure a lot of people know her in this area.
Jamin Brazil is going to be talking on podcasting. We've got Tim Hughes coming from the UK speaking on a social selling to what we talked about, like with some change makers. And obviously going to be talking about personas. I've got somebody coming from 3M who's going to be talking about trade shows, really doing trade shows right. It's just going to be a power packed, full day in Denver. Great swag bag, great cocktails, great lunch, great breakfast.
[47:26] Sharday: The whole meal deal, hey? [47:30] Priscilla: Yeah. Yeah. It's just powerful. I mean, you got to set your phone down and be totally present. [47:34] Sharday: Yeah. Wow. Really exciting. [47:35] Duncan: Want to maybe take a trip down to Denver in October. [47:38] Sharday: Yeah, I think we might just have to squeeze that in. [47:39] Duncan: And I know – you're right – the website – Little Bird Marketing – you guys offer a lot of resources that are available for download, as well. [47:46] Priscilla: Yeah, you know it's really funny. We've spent a lot of time crafting really great guides, ultimate checklists kind of like, hey here's 5 tips for this, that and the other – and you don't have a lot of people who come to us about marketing and effort they're a little trepidatious. Like, well we don't want to be salesy. And my answer to them is always, well don't be salesy then. If you really are trying to help people, then just help people. And just to that point, people are used to, there's a little bit of like landing page fatigue – download fatigue. Like, give me your email address and we'll sign you up for our stuff and then you can download this freebie or whatever.
But honestly, people can… yeah, we do ask for your email address. It's there. And we spent a lot of time working on the guide, but you can like download two guides, three guides, four guides, seven guides – and nobody's bothering you. Because you can just go about doing what you're doing. We really feel strongly that if we keep giving valuable information out of the people who are right for us, it'll work in that pretty aggressive funnel and that people will self-identify and be like, oh my gosh, I can't take it anymore. These guys are so perfect for me and they'll call us.
[48:45] Duncan: That's awesome. [48:46] Sharday: That's a great approach. [48:48] Duncan: Well, cool. [48:49] Priscilla: So there are a lot of great resources there. It's a
littlebirdmarketing.com/resources
, but take away. [48:54] Duncan: It'll be on our website for sure. So check out insightrix.com when you're done listening to this. And once again, thanks for coming on. I really appreciate it. [49:02] Sharday: This was awesome. [49:02] Duncan: We've gotten a lot out of this. This was great. [49:05] Priscilla: Sharday and Duncan, it just absolutely been my pleasure. [49:08] Duncan: It's been a hoot. It's been a hoot. [49:09] Sharday: Absolutely. Thanks again and hopefully we can do this in the future and have another conversation. There's nothing better than being able to chit chat about marketing market research and – especially with someone who has such a breadth of a background and as innovative as you are. We are so grateful to have you on today. [49:25] Priscilla: My pleasure. [Music] [49:30] Duncan: And there you have it. I'd like to thank Priscilla McKinney for coming on the podcast. Her take on marketing in challenging industries was super interesting and informative and I know both Sharday and I got a lot out of it. If you'd like to know more about Little Bird Marketing and the work they do, you can check out their website at
littlebirdmarketing.com
. That company is awesome. They don't just do great marketing. They also bred all kinds of resources businesses can use to augment and inform their own marketing programs and initiatives. You can find all kinds of great resources like information on building client personas, social media engagement tips and more on the Little Bird website at
www.littlebirdmarketing.com/resources
.
Little Bird Marketing will also be hosting an Insights Marketing Day event along with Greenbook in Denver, Colorado. In October 10th there'll be into multiple international speakers giving multiple talks.
It's definitely something you're going to want to check out. You can find all the information about that event at insights-marketing.org. If you didn't catch that, don't worry. We'll make sure a link to both the Little Bird Marketing website and a link to the resources page, as well as the link to the Insights Marketing Day event will be included on our web page for this episode.
I'd also like to thank Jaclyn Whitley for coming on the podcast and giving us a rundown on her trip to the IIEx North America conference in Austin, Texas in April. I really enjoyed having a chat with her and finding out about the event and her team's time at it and because talking to her I'll be aiming to catch the next one and their North America events.
If you'd like to learn more about the Insightrix Communities online panel software, check out the website @ www.insightrixcommunities.com.
And I'd like to thank Sharday for coming on again to co-host another episode. Having her aboard for the episode made a fun change of pace.
And last but surely not least, of course, I'd like to thank you – our awesome and super loyal fan base. Without you, none of this would be possible. If you'd like to help the show get found by more folks like you who have an interest in research, please take a moment to rate and review our podcast on Apple Podcast, Stitcher, YouTube or anywhere else you get your podcast fix. We'll be back in another couple of weeks with another episode of Stories of Market Research: The Insightrix Podcast.
[Outro music]